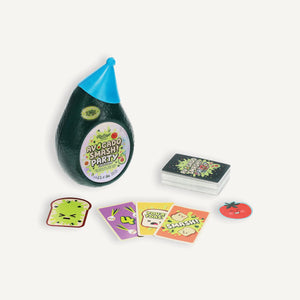 Avocado Smash is back -- and ready to party! The smash hit snap card game from Ridley's Games has gotten even more smashing in this jumbo Party Edition.
Perfect for avocado lovers and families, this game is suitable for ages 6+, 2 to 8 players and has an average of 20 minutes gameplay.
AVOCADO PARTY CARD GAME - For lovers of smash hit Avocado Smash, Ridley's Games brings you an even more smashing version in this jumbo Party Edition by adding Avocado Toast to the gameplay!
FUN FOR EVERYONE - Perfect for friends, families, and card game lovers, this game is fun for everyone! Plus it's fast-paced, easy to play and quick to learn!
MAKES A GREAT GIFT - This unique card game for kids and adults makes an inspired gift idea for any game lover. No matter the occasion, it's sure to bring laughter and entertainment.
TRAVEL-FRIENDLY GAME - Packaged in a novelty avocado container, it's easy to bring this portable game to wherever the party is! Suitable for 2-8 players, ages 6+. Average gameplay is 20 minutes.
RIDLEY'S – Ridley's invents exciting, original, quality games and toys to spark imaginations, banish boredom and open up a world of immense fun. Our games offer players a truly unique experience, with innovative bespoke packaging and gameplay.