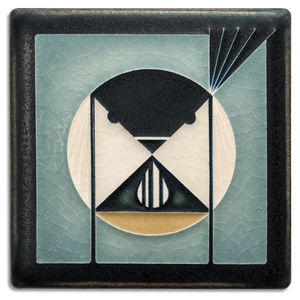 Mid-century modern meets Motawi Tileworks mastery in these tiles based on the work of celebrated wildlife artist Charley Harper (1922-2007), a self-described "minimal realist."
This little chickadee may look cute, but he's out to sneak some seed from the nearest feeder, so the other birds need to make room!
Each tile is made by hand and with heart in Ann Arbor, Michigan with methods that produce a nuanced range of color with depth and translucence.
Approximately 4" x 4". As each Motawi tile is crafted by hand, dimensions may vary slightly by up to 1/16".

Tiles are 5/8" thick and have a notch at the back for hanging.


Metal easel sold separately.