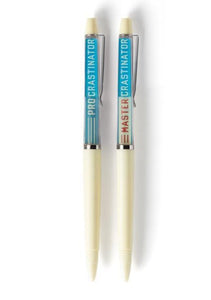 Finally, a couple of pens that you'll actually care about losing. These vintage-inspired floaty pens by Brass Monkey feature words that move and change as you interact with them.
Includes two unique vintage-inspired floaty pens.
Pen 1: Procrastinator (which changes to Mastercrastinator when in use)
Pen 2: Professional (which changes to Adequatefessional when in use)

Each pen measures 6" long and .5" in diameter.