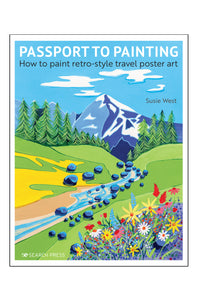 Retro-style travel posters are optimistic, aspirational, and unabashedly fun. Here's everything you need to produce your own!
Think of a travel poster, and you bring to mind summer vacations, happiness and fun. Perennially popular as wall art, their strong, designs and clean, flat colors are perfect for hobby artists to emulate.
A complete guide to producing travel-poster style art of your surroundings, this simple guide comprises:
Buying your acrylic paints, brushes, paper, and other tools and materials and how to use them.
Be guided through 6 specially designed projects:
        * The Golden Gate Bridge, San Francisco
        * Mount Rainier National Park, WA
        * Amsterdam, The Netherlands
        * Sydney Opera House, Australia
        * The River Thames, Southbank, London
        * Lisbon, Portugal
Guidance on composing a strong design, selecting colors and making sure your artwork pops
Susie's suggestions, tips and techniques to paint your own travel poster, starting with collecting research, designing your layout and planning your painting,
Framing your poster and perhaps even having it printed on your own tea towel or morning coffee mug.
Including step-by-step projects of popular travel spots across the world, and packed with examples of Susie West's inspiring artwork produce your own bold, bright artwork, to use as wall art, gift to friends, or to celebrate your hometown.