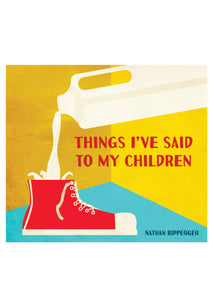 As the father of five boys (all under age 10), graphic designer Nathan Ripperger has found himself saying some rather funny, absurd, and downright bizarre things to his children, from "Stop riding that penguin, we're leaving" to "I am NOT talking to you until you are wearing underwear." He created poster-like images for each and posted them online. The response from other parents was overwhelming. With 
Things I've Said to My Children
, Ripperger has assembled around 80 of the funniest, weirdest, and most amusing sayings and paired them with full-color, designed images that bring these outrageously hysterical quotes to life. Covering the essential parenting topics like food, animals, don'ts, and of course, bodily functions, 
Things I've Said to My Children
 is a light-hearted illustrated reminder of the shared absurdity of parenthood. Especially for those parents who've ever found themselves uttering some variation of the line, "Please don't eat the goldfish crackers you've put in your butt."