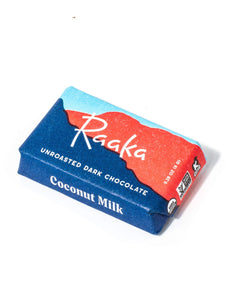 An 8 gram mini, bite sized version of one of Raaka's best selling chocolate bars!
Incredibly smooth and creamy mini milk chocolate bars made from coconut milk, with simple ingredients and ethically sourced beans. Raaka uses high-quality cacao that supports community and sustainability in countries like Tanzania and the Dominican Republic. 
It's all certified organic, kosher, and non-GMO, as well as gluten, dairy, and soy-free, so almost anyone can enjoy it!
made in Brooklyn, New York 

8 grams

cane sugar-free