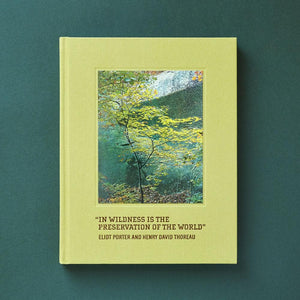 In Wildness Is the Preservation of the World is a vintage classic that pairs passages by writer Henry David Thoreau with images by photographer Eliot Porter. 
Ahead of its time, this bestselling—and long-out-of-print—classic monograph was first published in 1962. 
Porter masterfully created color photographs of the New England woods to pair with the writings of Henry David Thoreau.  
Often referred to as the very first coffee table book ever published
Both Porter and Thoreau—although they lived a century apart—worked endlessly to preserve nature and protect it from manmade interference.
First published by Porter and Sierra Club founder David Brower
The finished "collaboration" arrived in an era when environmental causes were not as prominent in the public consciousness, yet the book became an overnight publishing success.
In Wildness is a wonderful pick for environmentally aware buyers, photography fans, and anyone looking for a unique book that combines literature and photography.
Pairs passages from one of the most revered American writers of the nineteenth century with a premier photographer of the twentieth century
Features a re-envisioned cover of the beautiful classic
Offers hope and inspiration for the preservation of our natural world
Gorgeous on display on the coffee table