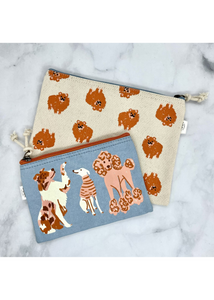 Dogs: ✅
Zipper pouches: ✅
Something within which to put other smaller things: ✅
The NOW designs puppies zipper pouch set is perfect for organizing pens, pencils, craft supplies, cosmetics, money, toiletries, jewelry, headphones, charging cables, keys and more!
This multi-purpose zipper pouch set includes a large size and a small and is great for traveling. Pack your passport, boarding pass, cell phone, money, medications, ear buds and any other necessities all in the large pouch. It's great for packing first aid supplies when hiking or camping. The small pouch is perfect for storing small accessories, loose change and more.
100% Cotton

Imported

Made from sturdy 100% cotton canvas, the pouches feature metallic zippers to keep contents inside secure, while grommet tabs add convenience.

The puppos design features lovely very good boys and girls looking sassy and fancy.

Large measures 9.25" x 6.75", and is the perfect size for throwing into a backpack, suitcase, gym bag or purse.

Small zipper pouch measures 7" x 4.5"

Made in India

Spot clean only