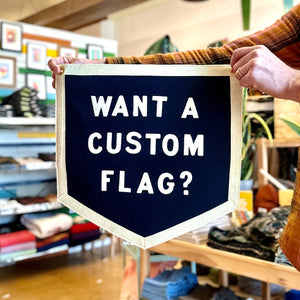 We had Oxford Pennant in house for a custom banner bar and it was so much fun we asked them if we could do it all the time and they said sure and made us the first official, full-time, Oxford Pennant custom banner bar!
We'll have semi-regular days where we have it running in the shop, come by, approve the layout and leave with your flag. Otherwise we'll produce and your flag will be ready to pick up or ship out within one week of placing the order. Though usually much sooner than that. 
Design Rules:
We'll layout your design as best we can. If you have alignment specifics we'll try and accommodate.

There is a 40 character limit. There are times a phrase still might not work based on the length of the words but in general 40 characters or less.
All letters are capitalized as shown. We also offer numbers and punctuation. 
Let us know what you want on your flag in the "notes" section of the order page
We won't make anything racist, sexist, or homophobic. We reserve the right to reject your design and refund your order.
Custom flag sales are final.
Navy wool felt with white border and white lettering.
Recommended for indoor use only. Each flag includes two grommets on the top corners for hanging.