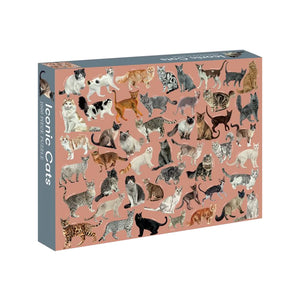 See your favorite iconic cats piece by piece with this fun 1,000-piece jigsaw puzzle, showcasing forty-eight of the world's most beautiful cat breeds.
Love cats but have no more space on your bed and laptop for fluffy friends? You may not be able to take home every cat that you find on the street, but with this jigsaw puzzle, you can hang out with all the different breeds.
The Himalayan? Norwegian forest cat? The Russian blue, Selkirk rex, and Siamese? They're all illustrated and waiting for you in their favorite place--a box. With plenty of regal and beloved breeds, this is the purrfect jigsaw for cat lovers. Featuring 1,000 pieces, this puzzle will give you plenty of time to pawnder which breed is your favorite.