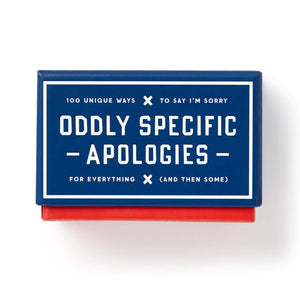 Sometimes it's hard to find the right words to say you're sorry. That's what these are for. This handy, portable box by Brass Monkey includes 100 unique apology cards for everything from 'I'm sorry that I neglectedly-homicided your plants' to 'My bad on the whole starting that minor house fire thing.' You'll be ready for any occasion–that you royally screwed up.
Includes 100 double-sided cards–with each featuring a unique apology on the front.

Each card has a space on the back to grovel in your own words.

Cards measure 3.5" wide by 2.5" tall (89mm x 63mm).