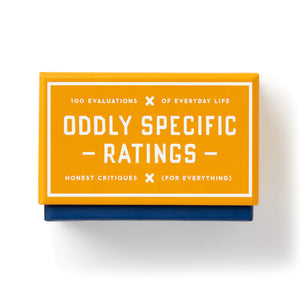 We're already constantly judging the people & things around us–we might as well make it official. This handy, portable box includes 100 unique 'evaluations' for daily life. There are cards for everything from 'You are really talented at being a terrible driver' to 'My compliments on the mashed potatoes. Your hard work didn't go unnoticed.'

Includes 100 double-sided cards–with each featuring a unique apology on the front.

Each card has a space on the back to grovel in your own words.

Cards measure 3.5" wide by 2.5" tall (89mm x 63mm).